"Ibrahim Alauri", the munafiq responsible for the betrayal and death of Khattab
The man highlighted in the photos below is alleged to be "Ibrahim Alauri", the munafiq responsible for the betrayal and death of Khattab - a close associate of Khattab that had been "turned" by the Russian FSB Intelligence (the other guy in the photo is Amir Elsi ("Elsi The Red") - Khattab's trusted bodyguard):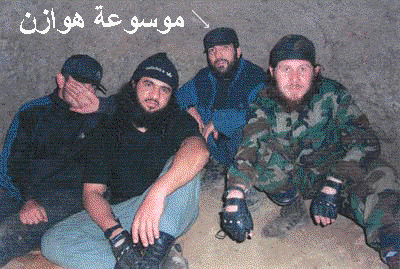 Here are the details of the poisoning operation conducted by he FSB that resulted in Khattab's death:


Quote:
Originally Posted by Jamestown Intelligence
Qatar Information agency cited a decision by the Chechen rebels' supreme military council (shura), headed by Shamil Basaev, to execute Khattab's alleged killer. He was identified as Ibrahim Alauri, a resident of Dagestan and an ethnic Avar. According to this report, Alauri was responsible for the poisoned letter that killed the Saudi-born warlord, apparently five minutes after he received it. The report did not indicate, however, whether Alauri had delivered the letter to Khattab himself. According to leaflets distributed by the rebels in Djohar (Grozny), the Chechen capital, Alauri was accused of treason and collaboration with Dagestani intelligence and sentenced to die by firing squad. The sentence appears to have been carried out sometime in mid-May 2002

Quote:
Originally Posted by Times
HE was one of Russia's most dangerous enemies, a warlord renowned for cunning and savagery who rarely left his remote mountain hideout and was always surrounded by six bodyguards. To the secret services, his assassination seemed impossible — until they thought of sending him a message.

The family of Khattab, a Saudi exile who became the most notorious rebel leader in Chechnya, has now confirmed that he died on March 20 after handling a letter contaminated with fast-acting poison. The Federal Security Service (FSB), the successor to the KGB, is quietly celebrating its ingenuity and the demise of an Islamic fanatic linked to Osama Bin Laden.

Chechen rebels said Khattab, whose real name was Samer bin Saleh al-Suwailem, died within five minutes of receiving an envelope delivered by Ibrahim Alauri, a trusted figure who had been turned by the FSB.

According to toxicologists in Moscow and London, the envelope may have been sprayed with a neurotoxin that was absorbed through the skin, rapidly causing a heart attack or suffocation.

The FSB broke its silence on the assassination after receiving a lengthy video, shot by Khattab's bodyguards, which shows him being lowered into a grave in the bleak mountains. The film was shot for propaganda, to raise funds from the Arab world. It opens with footage of Khattab speaking to the camera, boasting in Arabic of his achievements in wars against the Russians.

Obtaining the tape appears to have been another triumph for the security services, which had been tipped off by Chechen double agents that it was to be smuggled out by Khattab's most trusted bodyguard, Ilyas Isayev, nicknamed "Elsi the Red".

"We waited for Elsi and ambushed him in the mountains," said an FSB officer last week. "We killed him and retrieved the tape."

The Chechens say they have killed Alauri but are still looking for two Saudi nationals involved in the assassination.

The FSB released few details of its operation for fear of compromising future assassinations. "It was top secret and took a year to plan. To mount a military attack on Khattab's hideout would have led to heavy casualties, so we had to be more creative," the officer explained. FSB agents had taken advantage of divisions within Khattab's camp to recruit "people who could get so close to him as to be able to kill him". The agency has attempted similar operations before, but the attack on Khattab indicates a new level of sophistication. "It is technically quite possible to be killed by poison put on paper," said Oleg Kalugin, a cold war defector who now lives in America.

"I recall in the old Soviet days the KGB planned to assassinate some people by putting poisonous gel on the door handle of a car."

Khattab's death compounds the mystique of one of the region's most enigmatic characters. He was born into a wealthy family and studied in America. But after working briefly for an oil company he heeded the call of the jihad and went to Afghanistan to fight the Soviet invasion alongside thousands of Arab volunteers — including Bin Laden, who called him a good man.

In 1993, four years after the Soviet withdrawal, Khattab went to Tajikistan to join Islamic guerrillas fighting the Russian-backed government. In 1995 he led a small group of Arab fighters into Chechnya, apparently inspired by CNN reports of the war with the Russians. He quickly rose to prominence through a video that showed him walking in triumph among charred bodies.

He was ruthless in battle, taking no prisoners and severing captives' heads with a kinzhal, a traditional Chechen sword.

Now that the FSB has eliminated one of its greatest foes, it is encouraging the Americans hunting Bin Laden to follow their example and use a combination of intelligence and treachery to strike at the heart of Al-Qaeda.